Since the first donation of an original copy of the Proclamation of the Irish Republic by Kathleen Clarke in 1963, Kilmainham Gaol Museum has collected approximately 10,000 objects to date.
The museum has traditionally relied on the generosity of ordinary people who have donated objects to Kilmainham Gaol Museum which relate to the political and penal history of Ireland. The Kilmainham Gaol collection consists of a wide variety of object types, ranging from manuscript material, photographs, newspapers, weaponry, artwork, medals, uniforms and personal effects. The main strength of the collection is material relating to the Irish Revolution, 1916-23.
The origins of the collection lie with Kilmainham Jail Restoration Society (KJRS), the volunteer body which administered Kilmainham Gaol as a heritage site and museum from 1960-1986. During this period KJRS collected objects relating to the nationalist and republican history of Ireland from 1798 onwards, which were displayed in the East Wing of the prison building. Significant acquisitions included material relating to Charles Stewart Parnell and Michael Collins, objects and documents belonging to the executed leaders of the 1916 Rising and a large collection of weaponry used mostly in the 1914-23 period.
In 1986 ownership of the collection was transferred to the Irish State. Administered by the Office of Public Works, Kilmainham Gaol Museum began to collect material relating to the penal history of Kilmainham Gaol while continuing to collect material relating to the nationalist and republican history of Ireland. A purpose-built museum building opened at Kilmainham Gaol in 1996, providing improved facilities for displaying the collection. A major temporary exhibition entitled Guns and Chiffon in 1997 encouraged donations of material relating to the activities of female revolutionaries in the 1916-23 period.
The Kilmainham Gaol collection also contains archival material which can be accessed for research purposes. Although this collection is relatively small, it contains important material relating to political imprisonment in the 1916-23 period, significant material relating to the experience of women during the Civil War and material relating to key individuals such as Eamon de Valera, Sean Heuston, Austin Stack and Patrick Moran.
A particular strength of the archival collections is material which relates to the experience of 'rank-and-file' members of the Irish Volunteers and the Irish Republican Army, 1916-23.
Black box belonging to John Sheahan – transported from Kilmainham Gaol, December 1842
04EF 3N41 01
Black wooden box belonging to John Sheahan, Kildimo, Limerick. Convicted of an agrarian crime in July 1842, he was sentenced to twelve months imprisonment and seven years transportation. He was committed to Kilmainham Gaol in September 1842 and in December 1842 sailed aboard 'The North Briton'. He arrived in Hobart on April 4th 1843. John Sheahan brought all his possessions to Van Diemen's Land in this small box. After he obtained his freedom (certified free 18 April 1854) in Australia he became very successful.
Book of Shakespeare plays inscribed by Young Ireland leaders
KMGLM 2010.000101
Collection of Shakespeare plays which belonged to James O'Rorke, prisoner in Kilmainham Gaol in 1848. The book contains poems transcribed and signed by Thomas Francis Meagher and William Smith O'Brien at Kilmainham Gaol on 26 August 1848. It also contains the signatures of Charles Gavan Duffy, Newgate Gaol, 1 November 1848 and Kevin Doherty, Newgate Gaol, 2 November 1848.
Meal Docket, Kilmainham Gaol, Various Classes, 21 October, 1849
05PH 1C33 22
A food docket completed by the Matron – C. Judge – for 92 females, D & E class and 18 children.
Breakfast: 86 Quarts Stirabout, Milk; Dinner: 86 Bread and Milk. The six on hospital allowance received white bread and new milk.
Children: Breakfast- Stirabout, Milk and White bread; Dinner – Bread and Milk.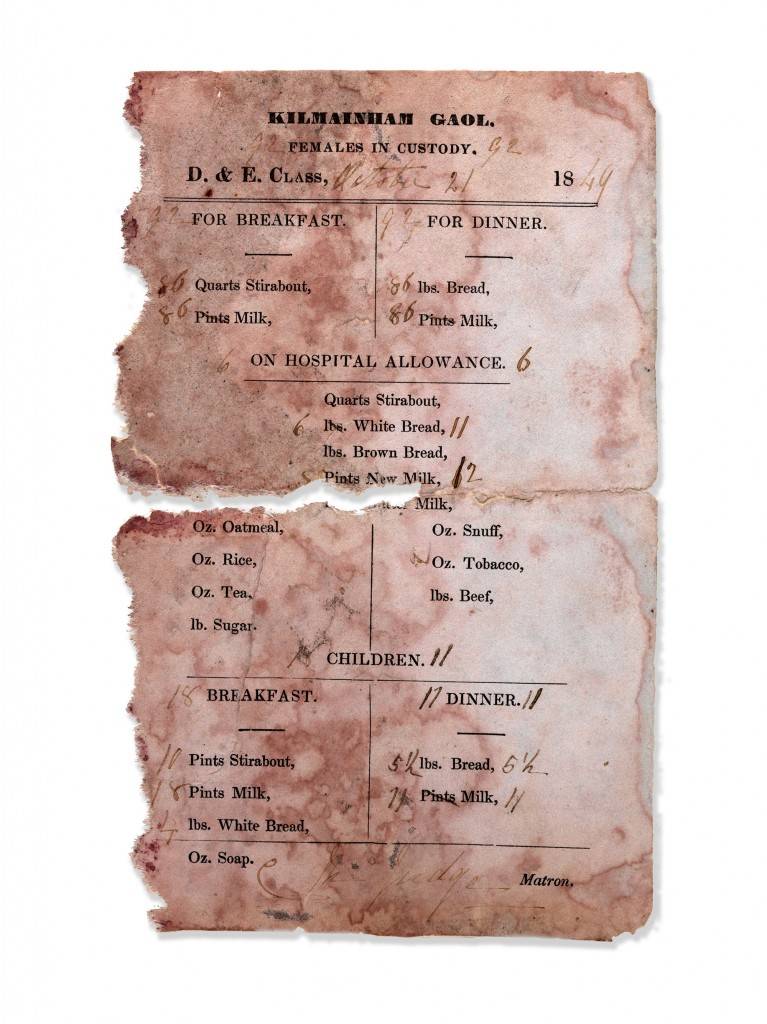 Last letter written by Charles Stewart Parnell to his doctor, 8 October 1891
09LR 1E14 07
One of Parnell's last letters, in which he tells his doctor in London that he has 'been attacked by rheumatism'. It is written in a weak and scrawling hand, only three days before he died.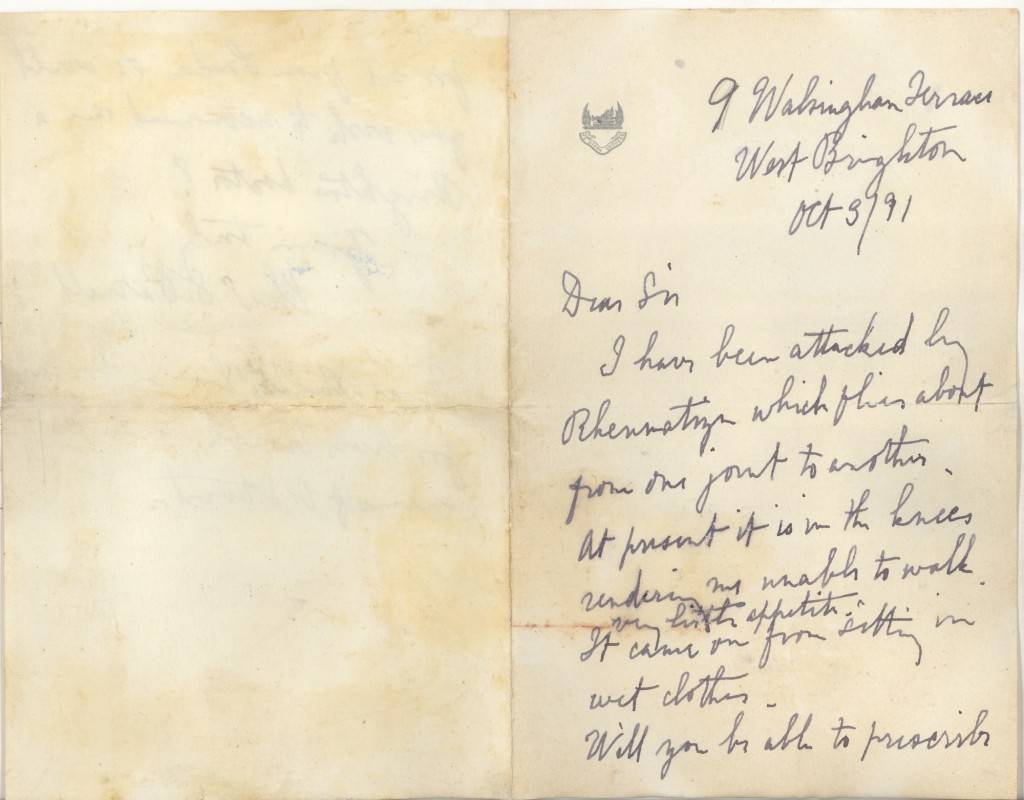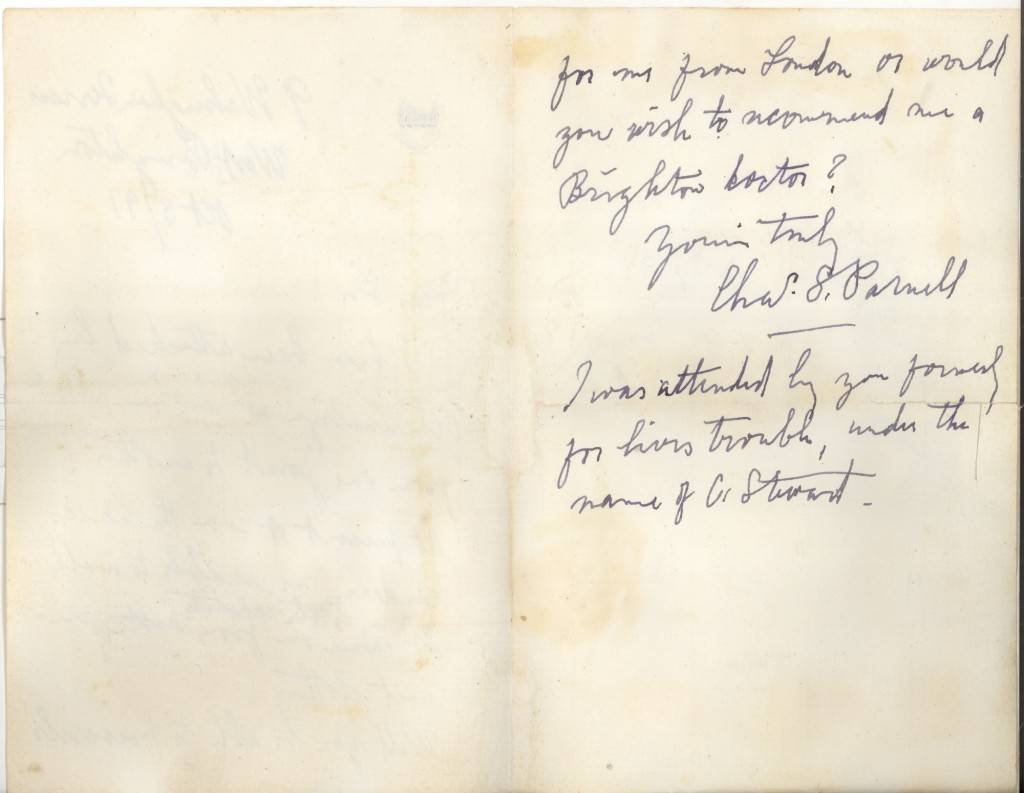 Ship's bell from the Asgard
The Asgard was the boat used to transport 900 rifles and 29,000 rounds of ammunition which were landed at Howth on 26 July 1914. The weapons were used by the Irish Volunteers during the Easter Rising, 1916.
An original 1916 Proclamation, given to Mrs Kathleen Clarke
17NO 1A66 01
An original 1916 Proclamation, which was given to Mrs Kathleen Clarke, widow of signatory Thomas Clarke. On the back is written: "This was brought to me at my home in Richmond Avenue on Monday morning of Easter Week 1916, from GPO. Sent by my husband Tom Clarke by Miss Sarah MacMahon. Kathleen Clarke."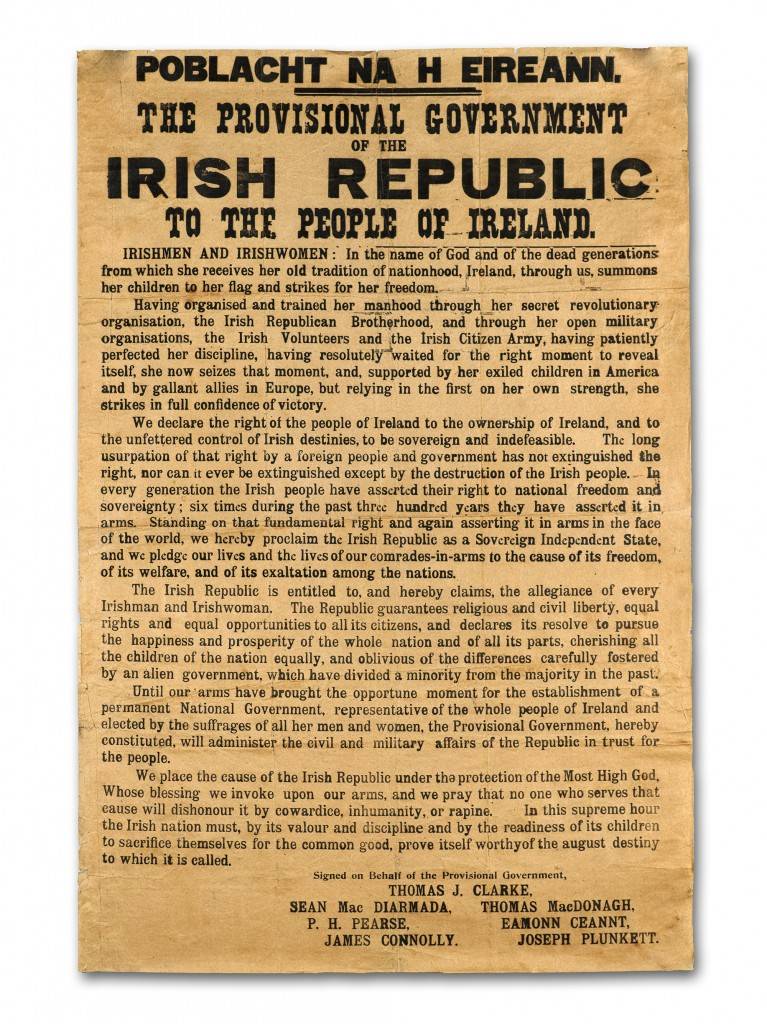 Last letter of Michael Mallin, Kilmainham Gaol, May 1916
2012 0086 01
Michael Mallin was commandant of the rebels at the St Stephen's Green outpost in 1916. In this poignant last letter from Kilmainham Gaol to his wife and children he tells them of his hopes for their futures and says goodbye.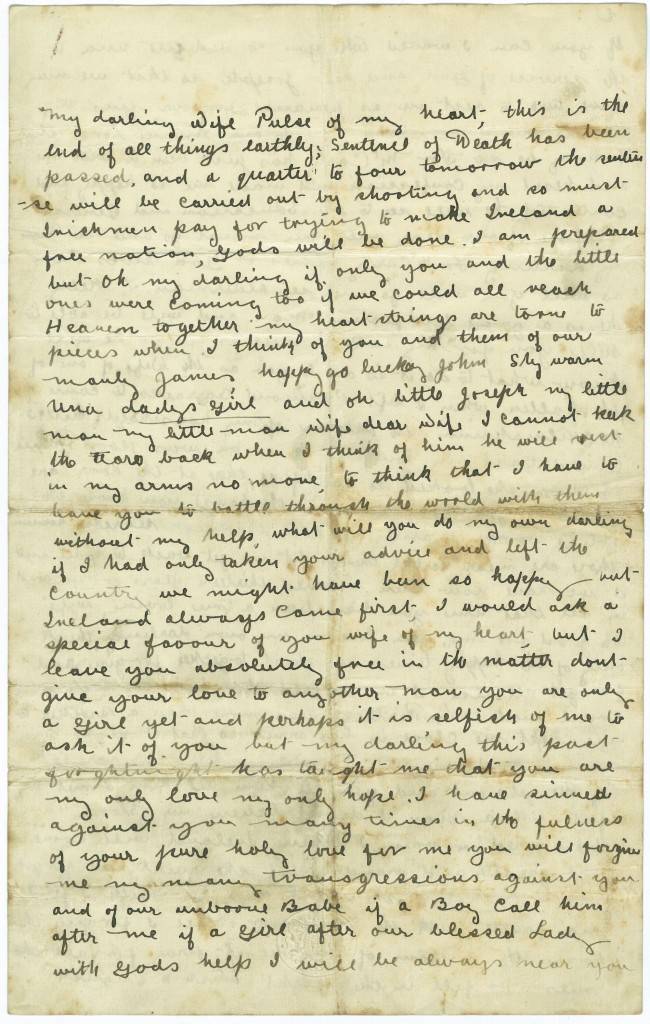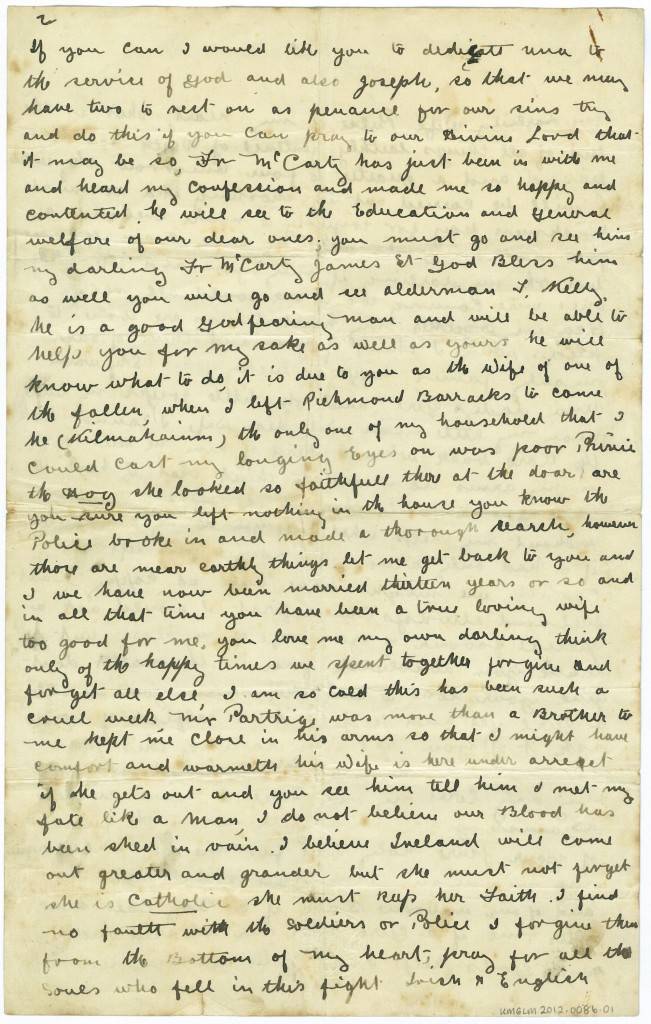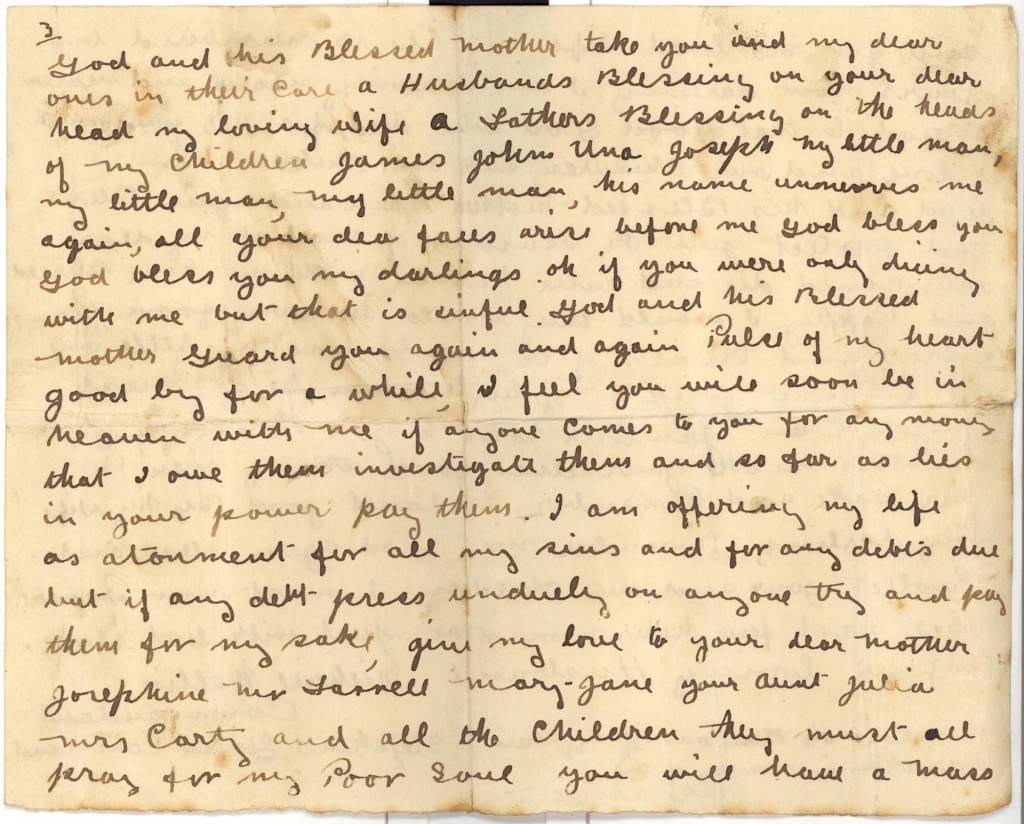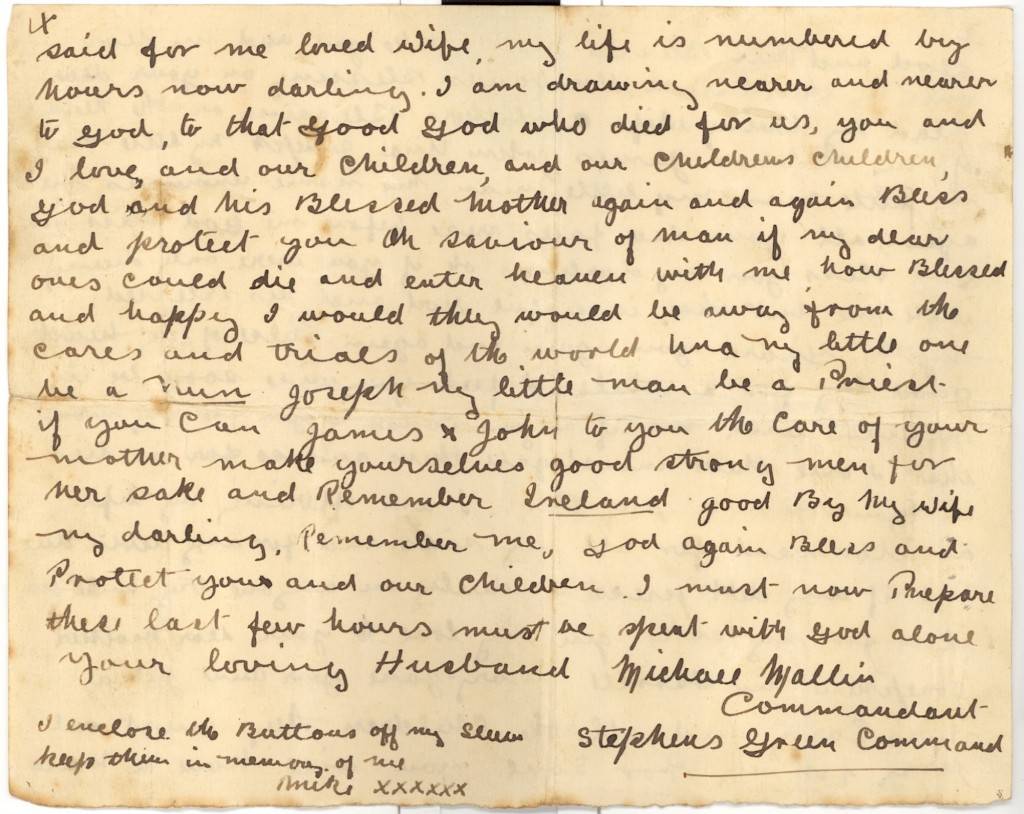 Large Crucifix held by Patrick Pearse prior to his execution, Kilmainham Gaol, 3 May 1916.
17RO 3G41 02
A large black crucifix with brass figure, skull and crossbones, INRI and tips. This crucifix was held by Patrick Pearse prior to his execution at Kilmainham Gaol, 3 May 1916. Scratched on reverse with a pin is "PMP" indicating Padraig Mac Piarais.
On loan from Fr Leonard, OFM, Cap., Guardian, Capuchin Friary, Church Street, Dublin. In the course of a letter accompanying the object, Fr Leonard quoted a message received at the Friary on 2/5/1916 as follows:
Kilmainham Detention Barracks
Sir,
The prisoner H.T. Pearse (sic) desires to see you and you have permission to visit him. Failing you, he would be glad o see any of the capucines (sic) I am, sir,
Your obedient servant,
W.S. Kinsman, (Major) Commandant.
"In reply to the above message on May 2nd," continued Fr Leonard, "Fr Aloysius went right away from Church St, to Kilmainham. He stayed with Pearse that night and well into the morning of the 3rd. He heard Pearse's confession and gave him Holy Communion. Fr. Aloysius had taken his crucifix with him, the one he used when giving missions. He left it with Pearse while visiting one of the other prisoners. On his return to Pearse, he noticed the light of the corridor shining through the spy- hole of his cell. It was falling on Pearse's face while he knelt in prayer clasping the crucifix. That was one of Fr Aloysius's most cherished memories. Then, as a memento, Pearse scratched his initials PMP with a pin on the crucifix before giving it back to Fr Aloysius. And that is the crucifix that the Capuchins are now presenting to Kilmainham Museum." (20/6/'66)
Rosary beads held by Thomas MacDonagh at his execution, 3 May 1916
Thomas MacDonagh was executed by firing squad and these rosary beads were given to him by his sister, Sr Francesca, the night before he died. The crucifix is missing, and is said to have been shot away.
Mug from Reading Gaol used by Cathal O'Shannon
18PH 3N31 04
A prison issue mug from Reading Gaol used by Cathal O'Shannon during his imprisonment after the Easter Rising. Large white mug with no handles. Stamped with black and white "Prison Commission" and prison arrow.
Sean Treacy's shoe, 14 October 1920
19EF 3O11 02
A key member of the IRA, Sean Treacy was shot dead during a shoot-out with British forces on Talbot Street in Dublin city centre during the Irish War of Independence. Sean Treacy was wearing this shoe at the time of his death, which was kept by his comrade Dan Breen.
Cyril J Daly's autograph book, Kilmainham Gaol 1921
KMGLM 2010.0123
From May to December 1921, IRA volunteers who had taken part in the burning of the Customs House in Dublin city centre were imprisoned in Kilmainham Gaol. A camera was smuggled into the gaol and this autograph book contains photographs and signatures of those imprisoned here at that time.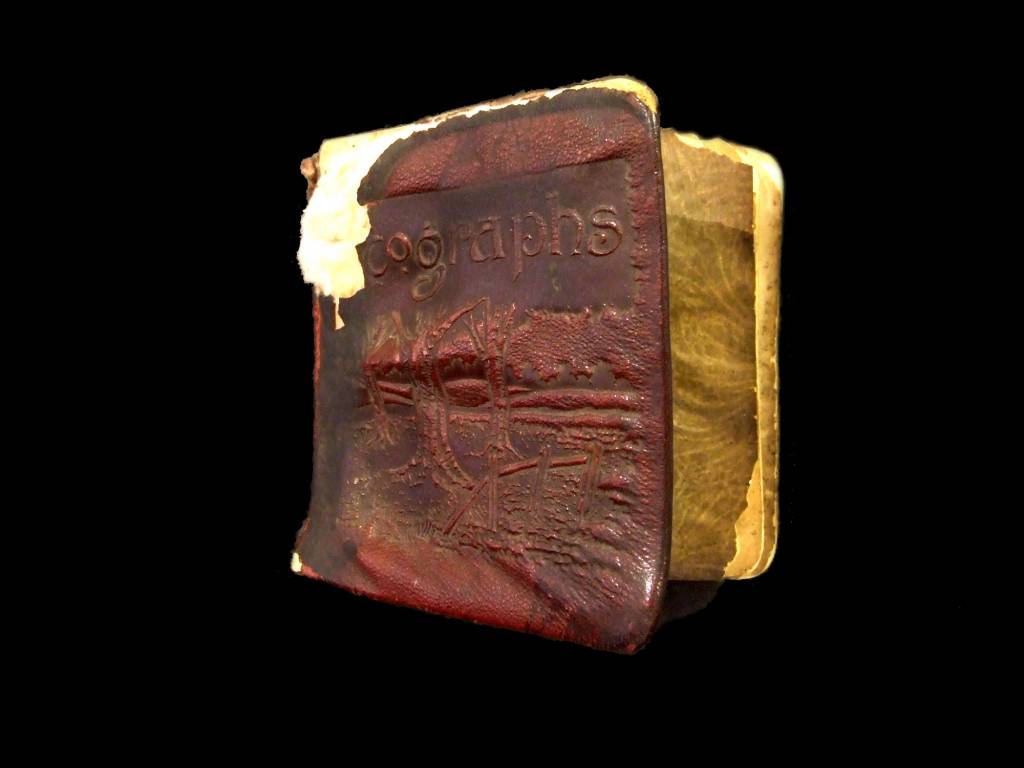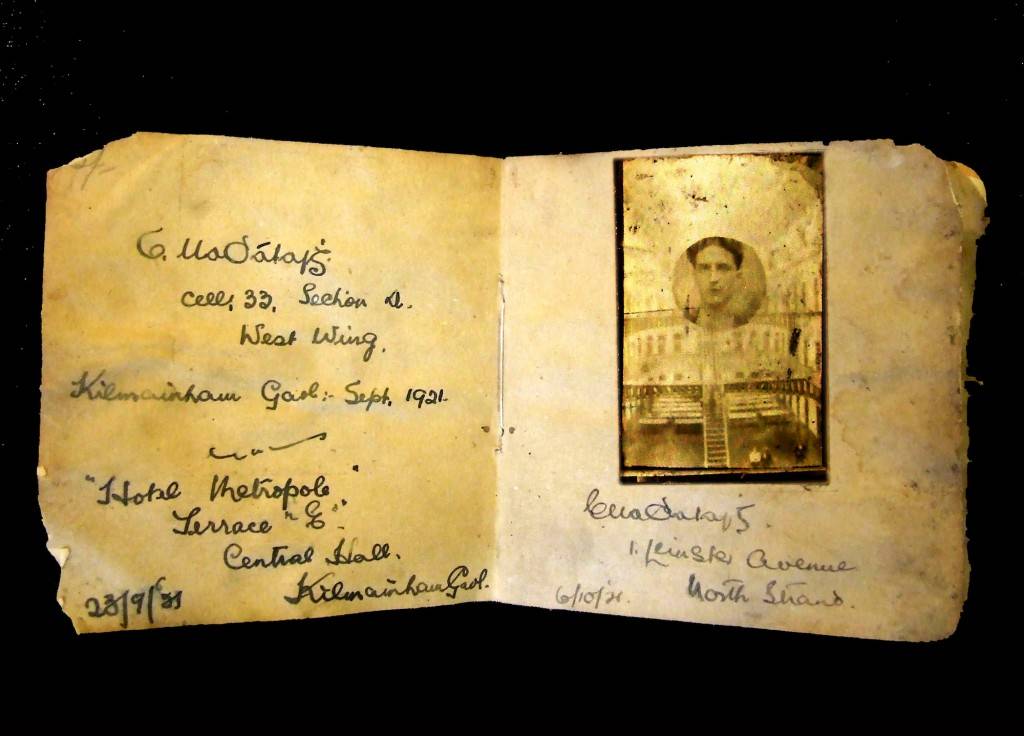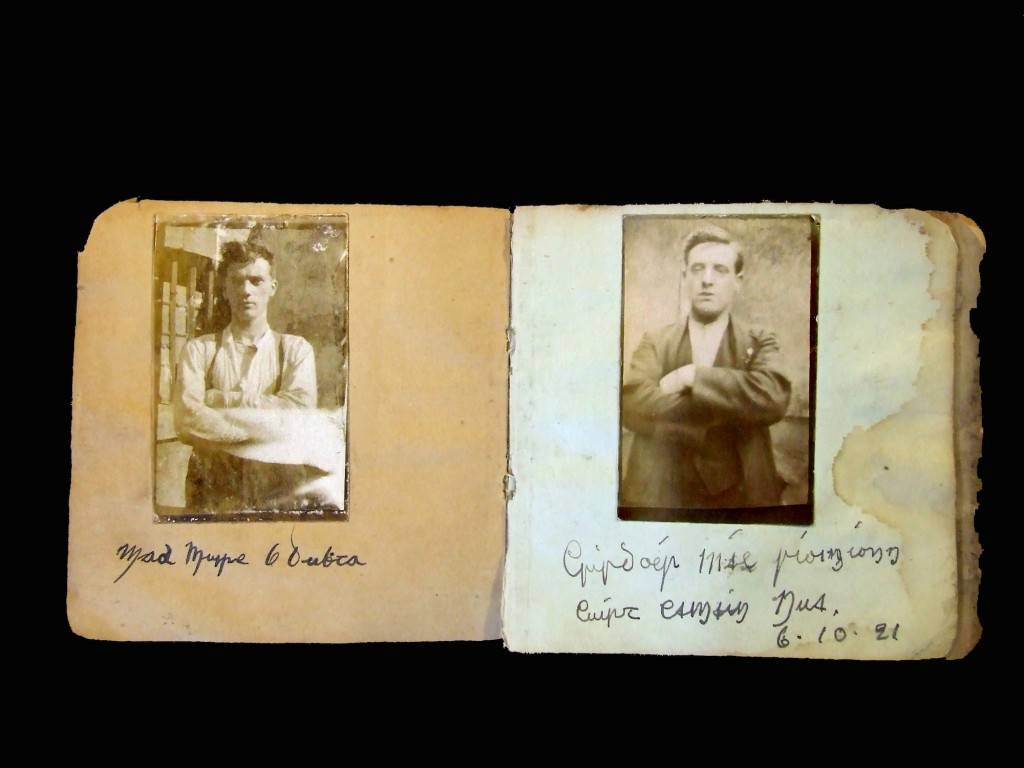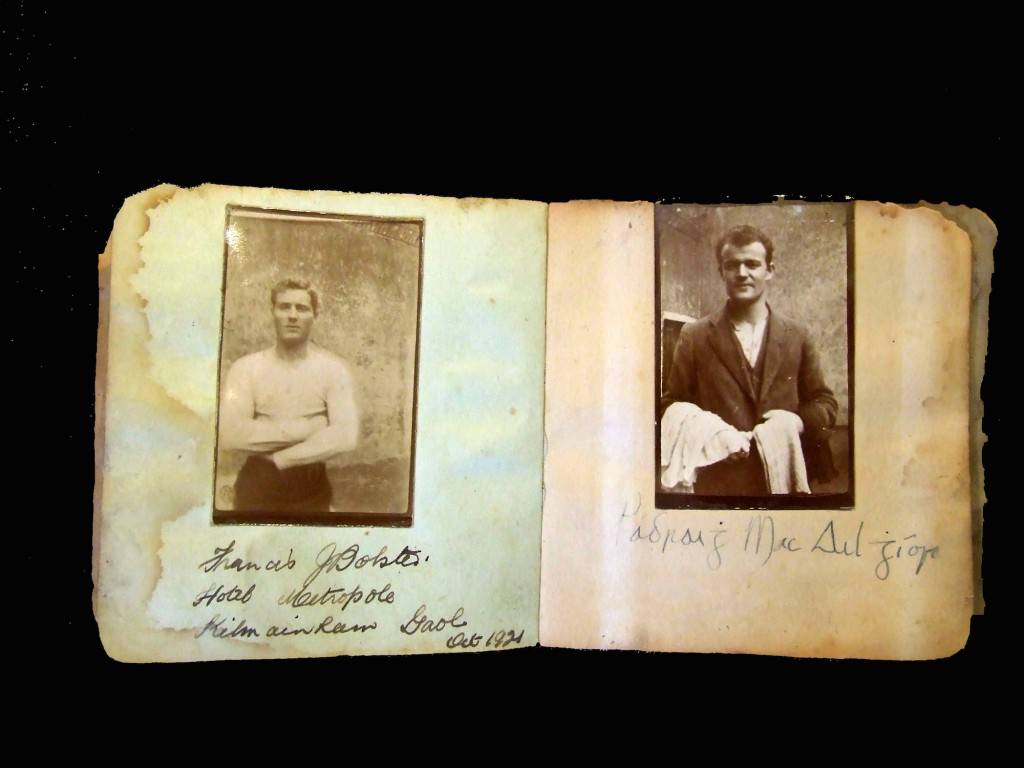 Last letter by James Fisher to his mother, 1922
20LR 1B23 26
The last letter written by eighteen-year-old James Fisher to his mother, before his execution in Kilmainham in November 1922. Fisher, along with three other young men (Richard Twohig, Peter Cassidy and John Gaffney) was shot in the Gaol on 17 November 1922. They were the first of seventy-seven executions by the Irish Free State during the Civil War.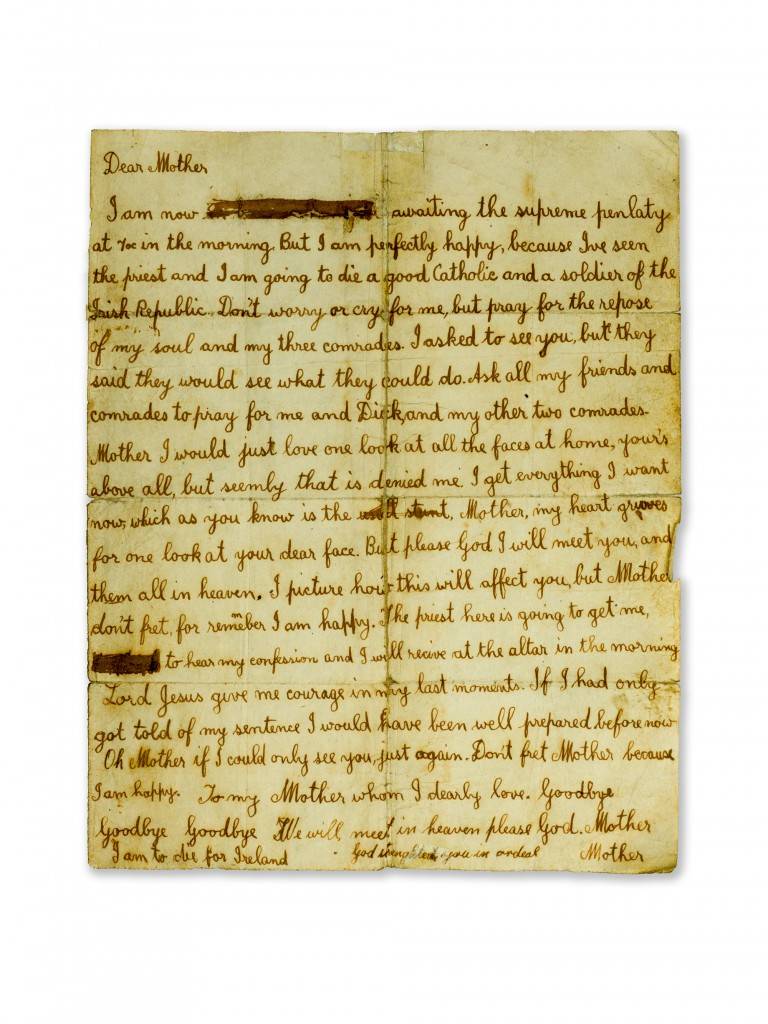 Sighle Humphrey's rounders baton, Kilmainham Gaol 1923
OBJ0072
During the Irish Civil War, hundreds of women from all over Ireland were imprisoned in Kilmainham Gaol. Among them was Sighle Humphreys, who used the leg of a chair to make a baton for playing rounders in the exercise yards.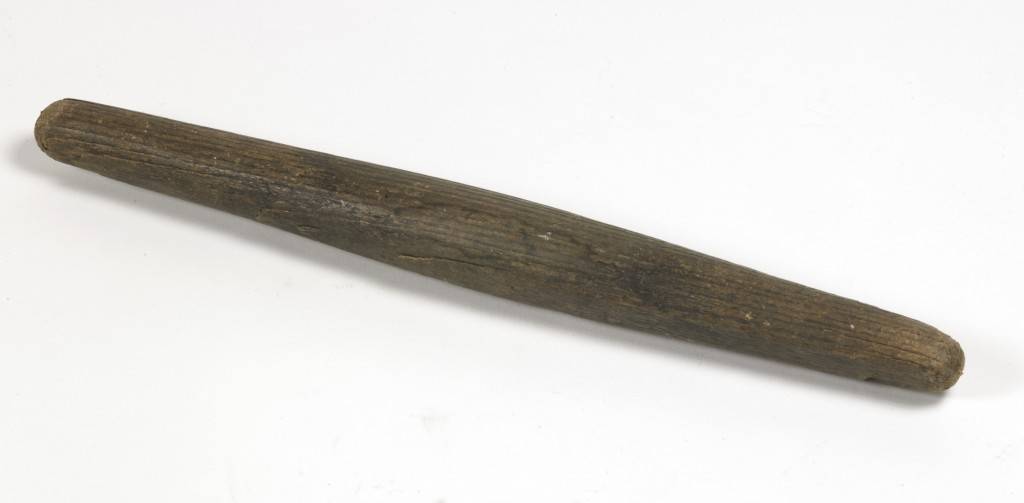 Blood-stained letter from Hazel Lavery found on the body of Michael Collins, 22 August 1923
20BK 1J21 15
This letter was among the items found on Michael Collins' body following his death at Béal na mBlá, Co. Cork during the Civil War. It was returned to Hazel Lavery by his sister Hannie Collins. She kept the letter pasted in to a book of poems by the poet Dante Gabriel Rossetti.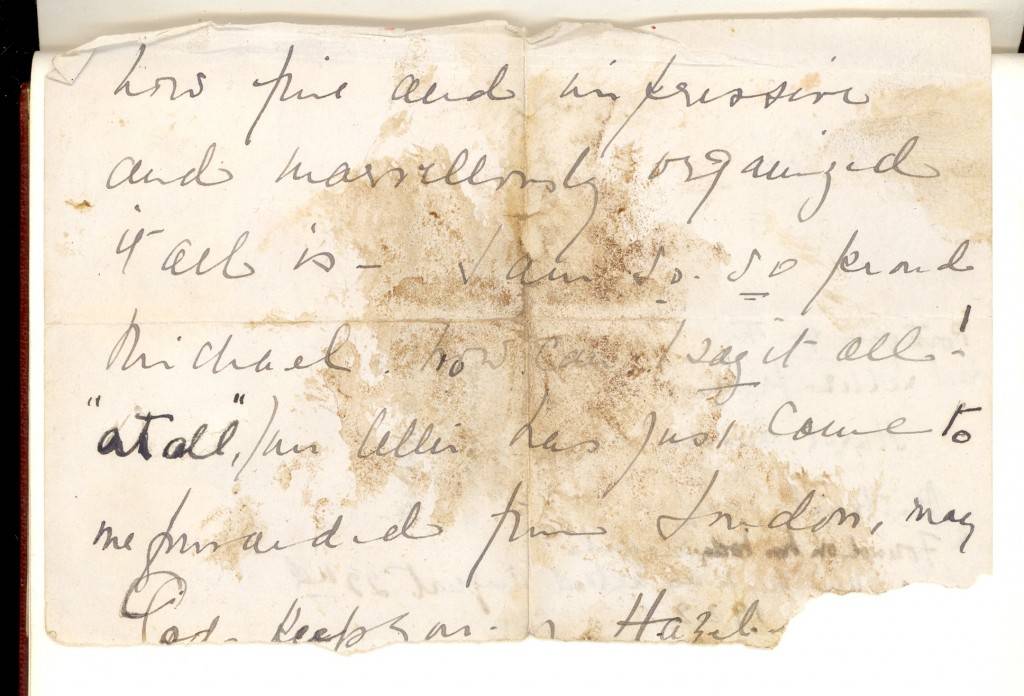 Piece of timber from Joseph Plunkett's cell signed by Grace Gifford Plunkett, 1923
17PF 3I21 06
A piece of timber which was taken from the cell in which Joseph Plunkett was held the night before his execution in 1916. A hand written inscription "This is Joseph Plunkett's Cell' was pencilled on it by his widow Grace Plunkett when she was held here in 1923 (during the Civil War).
Collection Box – Support the Kilmainham Jail Restoration
21RE 1G12 04
A small cardboard black and white box with "Support the Kilmainham Jail Restoration" written on sides. Slot for coins on top.
This box, and others like these, were designed to fund-raise for the work of restoring Kilmainham Jail, which began in the 1960s. The work was funded and undertaken by a group of volunteers.
Kilmainham Gaol Museum continues to accept donations of objects in accordance with its collection policy. If you are interested in donating object(s) to Kilmainham Gaol Museum, please contact us.